Until now, Dropzone 2 was only available via the Mac App Store. There were many reasons for this – and I explained why I made this decision in detail here.
This created an unfortunate situation for users who purchased the earlier (0.6 version) of the app as there was no way for me to transition these users to the Mac App Store (although I did give out promo codes to anyone who asked)
I've since decided that making Dropzone available exclusively on the Mac App Store was the wrong decision and have now decided to distribute Dropzone 2 outside of the Mac App Store as well. Therefore, I'm pleased to announce that the Non-Mac App Store version of Dropzone 2 is now available.
The first thing this means is that if you have an 0.6 license (purchased or via a bundle) you can download Dropzone 2 and use this license key to register and upgrade for free.
If you're considering purchasing Dropzone you now have two options – you can purchase via the Mac App Store or directly from us by downloading the free trial and then purchasing via the in-app FastSpring store.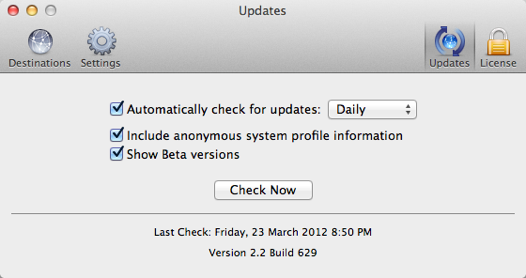 As shown above, in the Non-Mac App Store version of Dropzone there are two new buttons – 'Updates' and 'License' – In the Updates panel you can control Sparkle updater settings and in the License panel you can enter your registration details or purchase the app.
Note the 'Show Beta versions' checkbox. If you tick this you will receive beta updates as well as normal updates. In the past I distributed beta versions of Dropzone manually which was cumbersome and time consuming, this feature will help me to catch bugs earlier and allow a faster release cycle. If you'd like to receive the latest and greatest version of Dropzone and don't mind reporting the occasional bug, please tick this checkbox.
Note that if you've purchased via the Mac App Store this doesn't effect you at all. You should continue to use that version and you will continue to receive updates via the App Store app.
If you have any questions leave a comment below or email support@aptonic.com