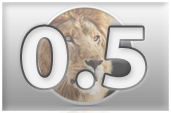 Dropzone has just been updated. This update contains the following fixes:
Fixed issue with FTP transfers failing in Lion
Fixed issue where copying or moving folders with back ticks in the name would fail
Added support for Ruby 1.9
The Imageshack & TwitPic destinations still have issues due to changes in the APIs. We will have updates for these destinations out shortly.
Our other app, Frenzy has also been updated and is now fully compatible with Lion as well.