After two months of solid development. Dropzone 0.3.0 is finally ready for release.
To upgrade now, click on the Dropzone dock icon then on the Dropzone menu and click 'Check for updates…'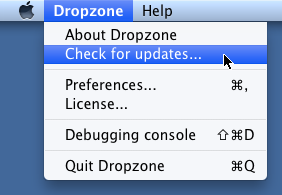 This is a big update, and although only a couple of new features have been added, lots of work has been done behind the scenes to make Dropzone more usable.
All the grid rendering code has been redone from scratch to be faster and smoother, and also, you can now resize the grid icons, which is especially useful on smaller screens where you don't want the grid taking up so much space. I recorded a quick screencast of these updates here.
We've also added an SCP upload destination which lets you easily upload files via SSH thanks to the work of Peder Olsen.
You need to be running Dropzone 0.3.0 to use this destination. So if this is something you need, upgrade and then download this destination here.